THE BEST YOU CAN EXPERIENCE IN
HOTEL SKI & WELLNESS RESIDENCE DRUŽBA****
Hotel Ski & Wellness Residence Družba**** in Jasná is an ideal place for all who love spending time on the fresh air in combination with comfortable accommodation, good food and relaxation in the wellness.
In the hotel there are two restaurants, night bar, wine bar, the largest hotel wellness center in Liptov, children's corner, playground, congress center, parking. The hotel is eco-friendly. Every year we plant more than 100 plants and trees, we collect and use rainwater, separate and recycle waste and have our own charging station for electric cars.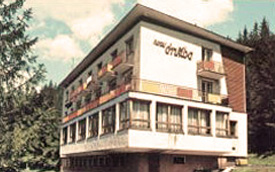 Postavenie hotela
Hotel bol postavený v roku 1963 a počas svojej existencie prešiel niekoľkými rekonštrukciami. Úplne v začiatkoch poskytoval ubytovanie v 8 dvojlôžkových izbách s kúpeľňou a 8 izbách bez kúpeľne. K dispozícii bola malá reštaurácia.
Prvá rekonštrukcia
Prvá rekonštrukcia hotela prebehla v roku 1999. Bola to rekonštrukcia strechy a balkónov.
Hotelový bazén
V roku 2001 bola v hoteli navýšená kapacita pre viac hostí. Pristavili sme tiež hotelový bazén a zrekonštruovali recepciu.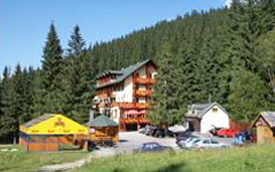 Ďalšie rozširovanie kapacity hotela
V roku 2003 sme znova rozšírili ubytovaciu kapacitu hotela a zväčšili reštauráciu.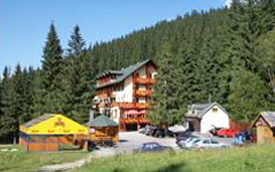 Z troch hviezdičiek na štyri
Od apríla do decembra 2006 prebiehala ďalšia veľká rekonštrukcia hotela pod Chopkom. Vybudovali sme novú časť hotela s ďalšími izbami, pridali sme konferenčné priestory, novú ľudovú reštauráciu, vináreň a nočný bar a zväčšili sme wellness centrum. Zvýšili sme komfort ubytovania a k dovtedajším trom hviezdičkám sme si pripísali štvrtú.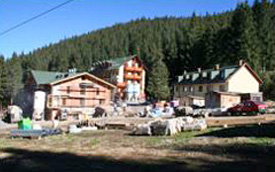 Zväčšovanie hotela
Zatiaľ posledná veľká prestavba prebehla v roku 2011. Bola spojená s rekonštrukciou niektorých izieb a s prístavbou nových apartmánov, recepcie a konferenčných priestorov. V tomto roku bol vybudovaný 25 m plavecký bazén, zväčšené a vynovené wellness centrum a tiež hotelová reštaurácia. Vybudovali sme multifunkčné detské ihrisko a pribudli nové parkovacie miesta.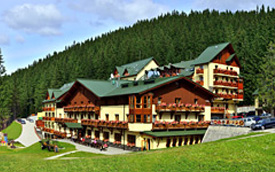 Stále vylepšujeme priestory a služby
V rokoch 2015 a 2016 sme pristavili novú časť wellness centra s Adult zónou a výrazne sme zväčšili vonkajšie detské ihrisko.
Prístavba Ľudovej reštaurácie - Rotunda
Zvýšenie kapacity Ľudovej reštaurácie na 260 miest. Kruhová konštrukcia, veľké presklené okná, panoramatický výhľad na okolie
Wellness
Unique, 25 meters pool at an altitude of 1200 meters above the sea level.
Family holiday
With a program for kids throughout the year.
Nearby activities
Hiking and skiing in the Jasná pod Chopkom Nízke Tatry resort starts at us
Evening program
Grill party, live music, tea ceremony, tasting